Cut safely and efficiently
What is waterjet cutting?
CUTTING WITH WATER ABRASIVE SUSPENSION
Waterjet cutting is a manufacturing process in which a workpiece is cut using a high-pressure waterjet (cutting process) – accordingly, it is classified as a cold cutting technology. Waterjet cutting is divided into pure waterjet cutting and abrasive waterjet cutting. ANT AG is the technology leader in the field of abrasive waterjet cutting.
What is abrasive waterjet cutting and where is it used?
Abrasive waterjet cutting can be divided into the Water Abrasive Injection Process (WAIS) and the Water Abrasive Suspension Process (WAS) patented by ANT. In both processes, a cutting agent (abrasive) such as garnet sand must be added to the water jet. WAS is mainly used for high-strength, thick, demanding and tensile materials.
How do WAIS and WAS differ and what are the advantages of ANT technology?
In WAIS, water flows under very high pressure through the nozzle in the cutting head of the system. The abrasive is sucked out of the mixing chamber by negative pressure ("Venturi principle"). This results in an air content of around 95 percent by volume, which leads to turbulent mixing losses and reduces the overall efficiency of the cutting jet by around one third. In ANT WAS systems, on the other hand, part of the pressurised water flows via a bypass valve into the Abrasive Mixing Unit (AMU). There, water and cutting agent form a suspension. The water abrasive suspension is directed and forced through the cutting nozzle via a high-pressure hose. The potential energy of the pressure is converted in the nozzle into a cutting jet that emerges at almost twice the speed of sound. The result is a two-phase jet consisting of approximately 97.5 percent water by volume and 2.5 percent abrasive by volume. Since the abrasive particles in WAS systems are directly bound in the water, the ANT suspension jet is significantly more stable, precise and powerful than the injection jet, as well as free of air. Due to the special ANT nozzle geometry, WAS systems do not require high pressure and save resources.
WAS cuts unlimited material spectrum
WAS has no limits in terms of cutting material. The cutting process is contactless, without heat generation and without deformation. This special type of waterjet cutting is used both in air and under water, as well as in potentially explosive and sensitive areas. Depending on the area of application, WAS enables safe remote cutting of material thicknesses up to 1,000 mm from a distance of up to 1,000 m.
The ANT basic technology WAS explained shortly:
1. Generate pressure
Water is supplied with a high pressure pump of up to 2500 bar.
2. Suspension
A suspension is generated from water and abrasive sand in the high-pressure vessel.
3. Pressure is converted into speed
The suspension is forced through the nozzle and transformed into a cutting jet.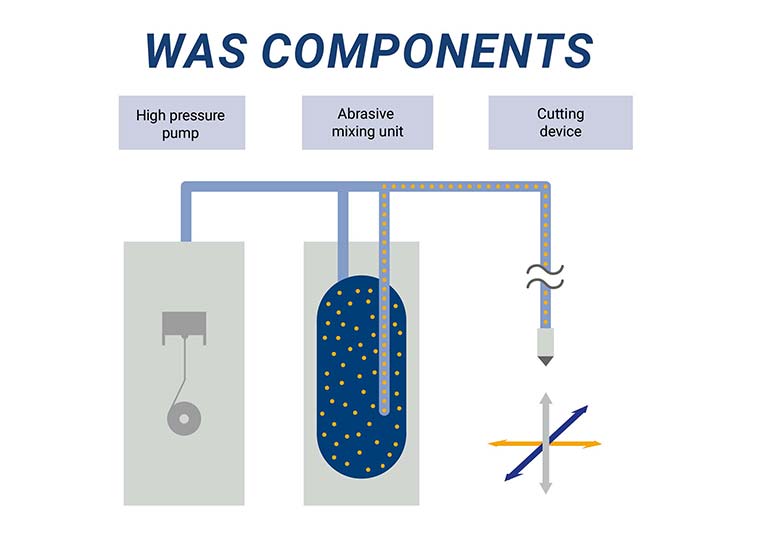 The core components of a WAS system are a high-pressure pump (HPP), an abrasive mixing unit (AMU) and a cutting guide system with cutting nozzle. Depending on the application, specialized remote-handled cutting guide systems, monitoring and control systems, and other accessories are used.
Do you have any questions?
Our sales team will be happy to help. You can reach us by phone Monday to Friday from 8am to 4.30pm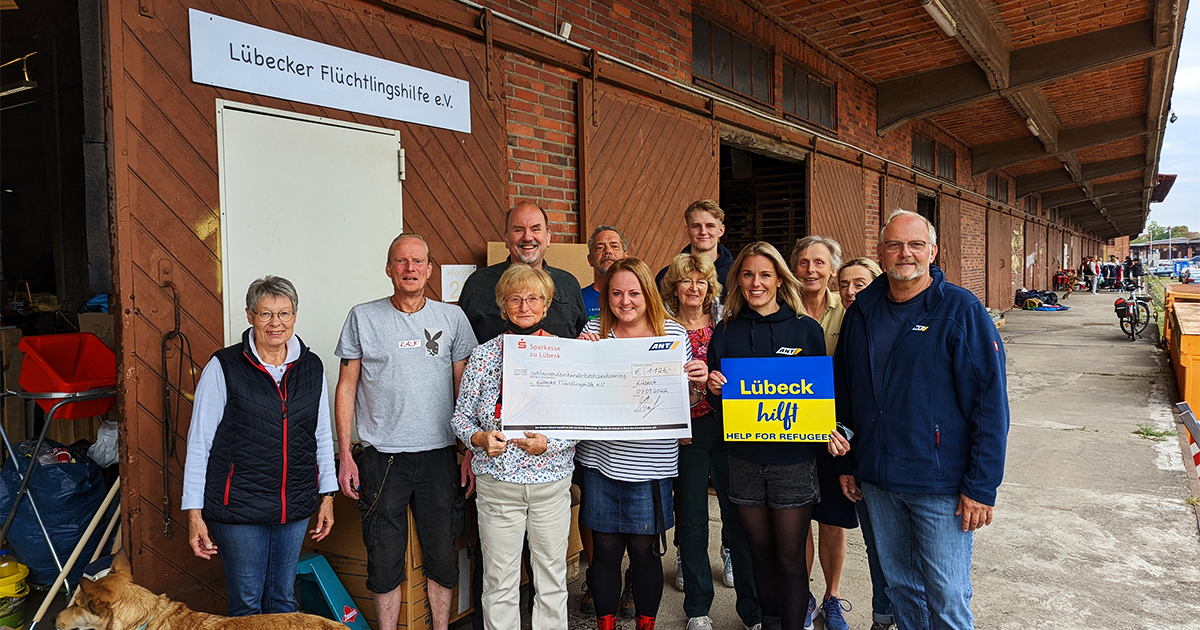 ANT hands over donation amount to Lübecker Flüchtlingshilfe e.V.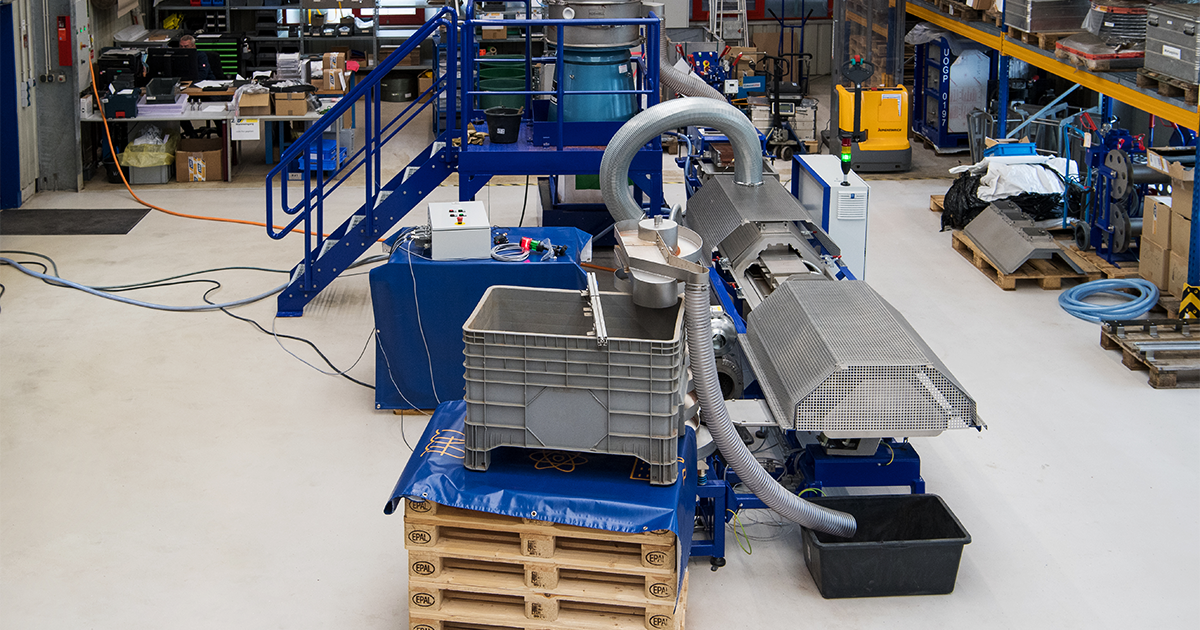 EuroBLECH 2022 Lübeck, 22nd August 2022 – At EuroBLECH 2022 (Hanover, 25–28 October, hall 12,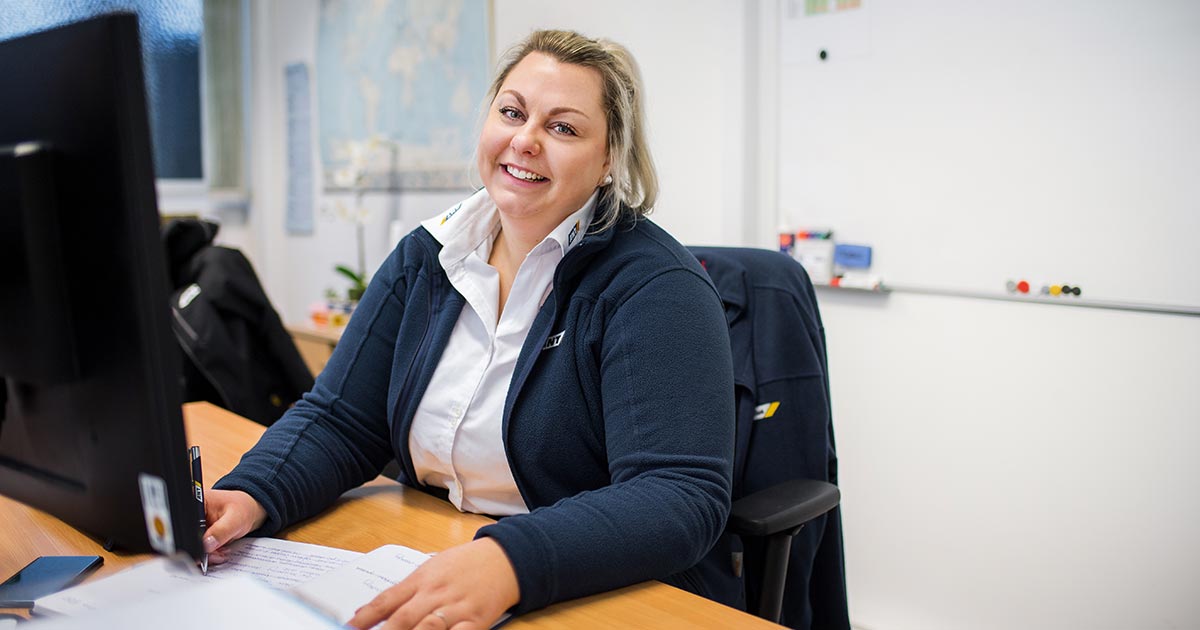 Jennifer-Eileen Topke always creates a good mood at our company with her positive manner. In